Mayfield are a new car dealership in Sheffield. Their focus is on service and making the buying experience more of an experience than a chore. Removing some of the traditional preconceptions about buying used cars is important to Mayfield and they offer AA-backed checks and ongoing warranties as well as finance packages.
What We Did
Brand
We first needed a brand. Car dealers seem to fall in the lower end of the quality scale when it comes to brand…some don't even have one. We saw a chance to learn from both the local "bloke with a car lot" and the national warehouse-type businesses. The local dealer has the advantage of being small and able to deal with their customers on a friendly, personal basis. This type of dealer is often recommended by others and relies on word-of-mouth referrals. However buyers are sometimes put off as the old "Arthur Daley" stereotype still lives on. The national chains are able to to project a strong brand, trust, offer peace-of-mind and have a pleasant, clean atmosphere to browse around in. Their disadvantage is that they are seen as overpriced and less technically knowledgeable about cars, with the staff being sales people rather than involved in servicing.
The brand needs to be applied to a range of material and work at small and large scale (for example, on business cards and keyrings up to large external signs). We chose a typographical logo and used a bold, simple typeface, avoiding gimmicks or quirks and gender bias. The colour palette is simple and trustworthy with a single Teal accent colour which highlights the black and white. The colour will be used on flat areas such as walls to add interest or around the website to pick out certain areas.
The brand is confident, trustworthy and designed to look like something you might see on the high street rather than specifically on a car dealer. Inclusivity is important and we hope to have make the brand seem less intimidating and appeal to more customers. We have produced a brand guide for future use to protect these values.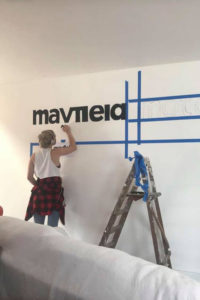 Social media is also an important part of Mayfield's strategy, and the brand's logo and colour scheme is designed to have impact when used as an avatar or profile image.
Website
A website for a car dealer is a lot like an ecommerce site (owner adds products and details themselves, customer lists products and views single for more details), but it's unlikely a customer would add cars to a basket and check out with a credit card. Obviously, the amounts of money involved are higher than most online sales but customers also need to see and test drive their new vehicle. In a lot of case they need to meet the person selling the car to gain trust.
Our solution was to offer a familiar shop site which lists products but to replace the shopping basket / checkout model with a comparison list which customers can add cars to, compare specs and come back to later to enquire about.
The latest cars are shown on the home page, with the chance to look at the full range or filter by price or specification. Each car has its own photo gallery (we offered advice on shooting cars for sale), its specification and, as all cars have a finance deal available, the legal necessities of information on deposits and repayments.
Additionally the site allows you to offer your own car for sale and to apply for finance. Mayfield's connection with the AA was also an important way of establishing trust early on. Customers can see their potential purchase has been checked and approved by a well-known established expert and one who is confident enough to continue to guarantee the vehicle after the sale.
The brand ethos which was used to create the logo is present across the site design – photos show families and young people enjoying driving. The focus on actually buying a car is quite low and that is intentional. Trust and confidence are the top priority as customers won't necessarily buy when they find the site…but they will remember that it felt a little less intimidating than the completely sales-based sites they might also be looking at.
For Mayfield, the ability to quickly add and remove cars is vital as cars are always one-off items on the site rather than products with stock levels – when a vehicle is sold it needs to be removed to avoid fielding calls from disappointed customers. We also created a simple system where a car's make, model and specifications are saved and can be re-used on future vehicles which makes adding cars a matter of ticking boxes rather than typing. The more cars added, the more this library of options builds up, and adding items becomes even quicker.
How We Did It
We went for a bespoke WordPress theme with WooCommerce in order to allow Mayfield to easily update the site content and vehicles. We disable the basket and ecommerce functionality and replaced with a "Wishlist" plugin which we customised to create the car comparison list.
The Result
Mayfield are now up and running using their new brand across their premises for signage as well as printed material. The website is being updated daily and bringing in new business.