Webasto have been providing heating and cooling solutions for vehicles since 1901 and are worldwide brand. As part of their drive to appeal to the UK public sector were asked to come up with concepts for a pack which could be mailed to managers of NHS ambulance fleets.
As well as their existing promotional DVD and business card, Webasto wanted to include a set of postcards which detailed their specific services and products as well as a colour brochure targeted specifically at the "Blue Light" sector which we designed and print-managed.
Concept
Webasto needed an item which was of a quality high enough to be retained by the recipient, yet was cost-effective to produce. As they already had some promotional material to add to the pack, and we were creating the rest we knew the sizes required.
We wanted something three-dimensional and managed to find a printer who could supply an off-the shelf box pattern which we could customise with colour, brand and a our own insert to securely hold the contents during postage.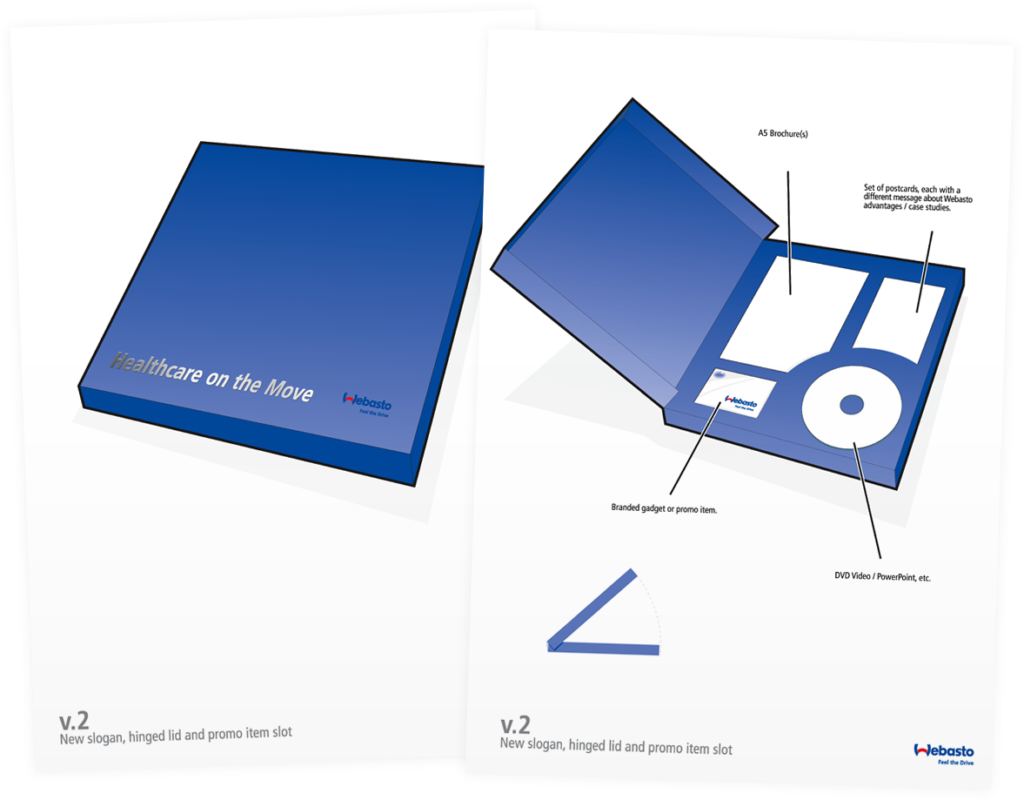 Content
Our postcards and brochure were designed to appeal specifically to the sector as this was a highly targeted marketing campaign. Our main challenge was finding suitable imagery. Webasto has a large range of imagery but, being a German company, most of the vehicles in their photo library were left-hand drive models. Also, every country has a distinctive look for their ambulances and most of them were obviously not from the UK. This meant we needed to source original and stock images for the brochure.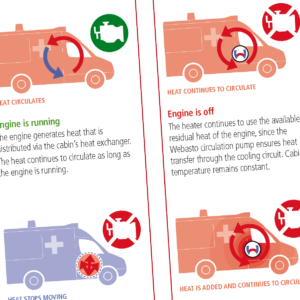 The copy supplied by Webasto was quite generic and taken from previous literature, so one of our tasks was to refocus and rewrite the content to appeal specifically to the UK NHS ambulance sector.
A number of infographics were also needed to illustrate the concepts of Webasto's "Engine-off" heating technology.