Chesterfield Paver Hire is a small company who had operated for years on word-of-mouth marketing. The owners decided to bring the company up-to-date and asked us to see what we could do.
What We Did
We suggested that we first needed to provide a clear brand as it was deeply confusing for customers to see different colour schemes and logos on different paperwork and machinery.

This formed the basis of the design for a new website which describes the products available to hire simply and without clutter. We created some illustrations to show the machines alongside a simple specification table to make it easier to decide on the correct equipment.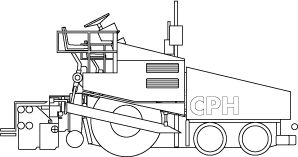 The heavy use of black evoked the environment the machinery is used in but we countered this with bright, large pictures of the most colourful machines in CPH's collection. On the photoshoot we also captured a library of closeups of the machinery and road surfaces to use as textures where a non-specific image was needed.
We also thought it was important to add real-world quotes from current customers to give potential new customers a sense of trust.
Hiring large plant machinery is best done on a local basis to minimise transportation costs and logistics so the site was written in order to highlight the company's location wherever possible which, along with the very relevant domain name aimed to boost the search engine ranking of the site.
The collection of several different telephone numbers and email addresses was also rationalised.
The Result
The new website and its associated brand has resulted in an increase in bookings because of the online forms.
The local approach we took with the search engine optimisation has seen Chesterfield Paver Hire go from nothing to being the top result in a Google search for "Paver Hire Chesterfield."
Future plans will involve building on the initial success with CPH engaging, with our help, some social media marketing.