About YPO
The Yorkshire Purchasing Organisation was formed in 1974 by thirteen local authorities to aggregate demand and improve purchasing efficiency as a buying group. It allowed multiple organisations to "club together" to combine their purchases into single, larger orders to make substantial savings by bulk buying.
As a group, YPO supplies products and services to schools, local authorities, charities, emergency services, the public sector and other businesses such as nurseries and care homes. Their range includes around 30,000 products and services from pens and paper, computers and furniture to things like electricity, food and insurance.
Our Task
With so many products and orders to keep track of, YPO need a massive sales, inventory, warehousing and logistics system. Our sister company, Azzure IT, have been working with YPO on a long-term basis to integrate all of their systems and processes into a single solution. As a result, a highly customised deployment of Microsoft Dynamics NAV is now at the heart of the business. YPO wanted to extend the use of their new system to all of their members rather than just the staff at HQ with a simple, quick-to-learn solution which allowed the members to do only what they needed to do and hid all of the rest of the functionality.
What We Did
Whilst the NAV system was perfect for YPO, they needed their members to be able to place their own orders onto the system, check their progress and, if needed, edit them. Just giving customers access to their internal systems was not an option, so our task was to create a web-based interface which allows external users to access and modify orders from NAV but using a website.
The self-service portal requires minimal training and no experience of NAV because it uses elements already familiar to anybody who has ever used a website (browsing, links, forms, etc.).
The Look
YPO has a very strong and recognisable brand. As the portal is an extension of YPO's brand into other businesses it needed to be consistent with all of YPO's other messaging, so we worked closely with their marketing team to ensure this.
The user interface is accessed through any web browser (desktop or mobile), is simple, clean and designed to need the minimal amount of training for users.
Our aim was that if a user can navigate a website or use Word, then they will already know how to operate all of the elements. The small amount of training needed related mostly to the setting up of accounts and users.
The Structure
YPO can allow a member to access whatever parts of the NAV system they need. Once the member is set up, they can also allow other users (usually their employees) to also use the system, but with more limited options. The power to add sub-users gives the portal another lever of self-service, as YPO do not need to manage individual users.
Users are met with a dashboard when they log in which gives the latest sales information and any warnings of actions which may need to be taken. The actual data shown on the dashboard depends on the type of user they are, with the higher levels of user being able seeing more sensitive data than the lower ones. Any messages from YPO are also shown on login.
Existing orders can be filtered by their status (in progress, new, updated, cancelled) and each order can be inspected in detail. The detailed view shows the status of all of the lines of an order and allows changes to be made to quantities and delivery dates. If something has changed on the YPO side, such as a delivery time, the user is warned and they get the chance to accept the change, or propose an alternative.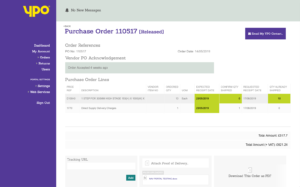 When an order is out for delivery, a tracking URL can be added if the carrier offers one. When delivered, any proof of delivery documents can be uploaded to the order. There is also an email enquiry button which can send a message directly to the account handler associated with that particular order if there is a query.
Different users have different ways of using the order information internally, so we gave them a few choices. Every change to an order generates an email alert but some users wanted messages to be sent as the changes occur whilst some didn't want to be inundated with updates. It was also found that some users had a specific time of the day set aside for dealing with orders…so we gave them a choice to have constant email updates or to store messages up and deliver them as a single block which could be scheduled to arrive at their preferred time of day. Any order can also be downloaded as a PDF document from the system if users need backup copies or to print them as a formatted A4 document.
Orders which need to be returned can also be dealt with by the portal as Purchase Return Orders, which are operated the same way as orders, but work in reverse.
In addition to the order process, users can administer their account (change passwords, etc.) and also decide the frequency of their email updates. Higher level users can control access to the portal which the lower levels are allowed.
The Result
YPO's customers can now oversee and control their purchasing and returns operation without the need to contact YPO which means large time (and therefore cost) savings on both sides. Orders can now be placed or edited outside of working hours, if needed, as YPO is no longer needed to be involved in the process. The mix of automation and self-service has taken a huge burden away from YPO's staff and the portal is an extension of YPO's brand into their customers' operations.
YPO's customers now feel that they have more control over the process and that their relationship is more of a partnership than before, as they are all working with the same system. The simplicity of using a website with familiar controls made onboarding the users a simple task.